Beautiful Suffolk Wedding 2016
I had the pleasure of traveling to the very pretty Suffolk village of Glemsford on Saturday for Emma's stunning wedding. I did Airbase for the whole bridal party and I think you'll agree that Emma was a gorgeous bride. Emma opted for Ardell wispie lashes which complimented her vintage look and she used a MAC lip crayon in a rosy light red to set it off. Looking forwward to seeing the images from John at Pure Image Photography.
Vintage Boudoir Essex Shoot Throwback
Seeing as I've been a little quiet on the updates I thought I would add in these gorgrous images from a boudoir shoot I did with the superb Kathryn of Kathryn Hopkins Photography. This actually came together in November last year on a very rainy, cold day at our beloved Walkers Farm in Farnham. Once again Katy was our model and we put togther a very pretty, vintage inspired shoot, with the backdrop of a cosy stone fireplace. Kathryn took some of the images with a black and white film camera and even though she felt they came out grainy, I still love them. Katy had a Bare mineral base, a cocktail custom lip colour of Lily Lolo's Romantic Rose and Ilamasqua Flaunt. Enjoy! xx
Emily's Wedding at The Fennes, Essex
Emily was a very sweet June bride, who again wanted a gorgoeus vintage makeup. We created a soft, golden smokey eye with a slight flick, and a fresh faced blush. Again Sunflowers made an appearence in the bouquet, so I'm spotting a trend here! We used Airbase, Daniel Sandler andBobbi Brown. Emily's vintage rose pink lips were Bare Minerals Moxie Lipstick 'Get ready'.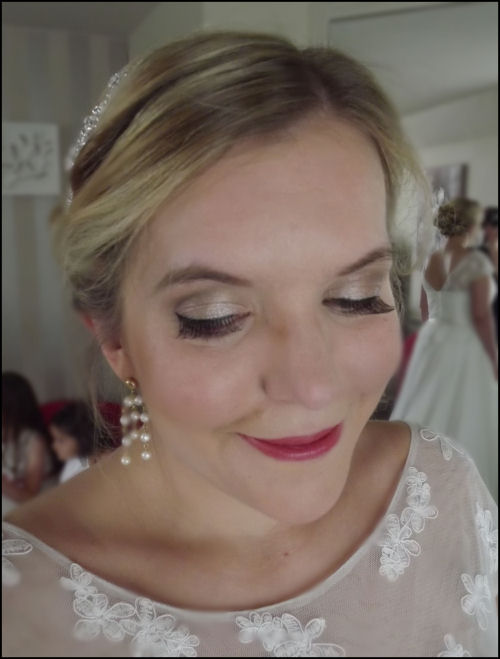 I think Emily looks a bit like Sophie Dahl! What do you think? xx
Fabulous Suffolk Wedding!
I've had the pleasure of going to several amazing weddings recently. Mid June was Toni in Newton in Suffolk. Toni had a vintage theme, with amazing converse pumps and Jimmy Choos for the ceremony. She opted for a soft, natural makeup with no lashes, just mascara and golds and browns on the eyes. Loved her Tea length dress and Sunflower bouquets.
Bridal Makeup Gosfield Hall, Essex
It was wonderful and always a pleasure to re-visit Gosfield Hall on Friday. I have a great fondness for this venue as I was married there myself, 7 years ago! Alex was a stunning Bride and opted again for an Airbase flawless finish. We also used Red Cherry lashes and Bobbi Brown Sandwash Pink Lip colour. All three of her bridesmaids also had Airbase Makeup and they all wore it beautifully. Alex was very impressed with its staying power at her trial and recommened it to her maids.