Sophie's wedding at Tewin, Hertfordshire.
Thank you to the lovely Kevin Lines Photogaphy for this picture of Sophie below. She was a gorgeous, natural bride earlier this month. She married David at Tewin Bury Farm Hotel, which is a stunning venue, able to hold many events under the same roof. Sophie and David are avid divers so it was great to see how they brought their love of the sea into the wedding day!
Indian Bridal Makeup in London
I recently completed a course on Advanced Makeup at the fab Sessions school in London run by Dani Guinsberg. The Sessions School is a brillaint place to go and completley retrain in a new, exciting profession or like me, brush up my skills and learn something new. I happen to know that a few of the trainees have gone on to work backstage at fashion shows or even assist other top artists. While I was there I felt the course really opened up my eyes. We spent the majority of time on creative, catwalk, editorial makeup and also a masterclass in vintage, which was amazing. There are lots of vintage loving brides out there! But I had to return to do my final photo shoot and since I was being told to think outside the box and push it, I decided to go for a bollywood meets festival look for the final shoot. Indian Bridal makeup is an art I'm enthralled with, but I rarely get to do, so Dani gave me Anjana, the model below, who was totally perfect for what I was going for. Her skin was gleaming and I concentrated on big, defined eyes, using black, golds and glitter. Then I applied the jewls to form a traditonal Bindi, which is popular with festival goers aswell. I think this look would work beautifully on many different skin tones.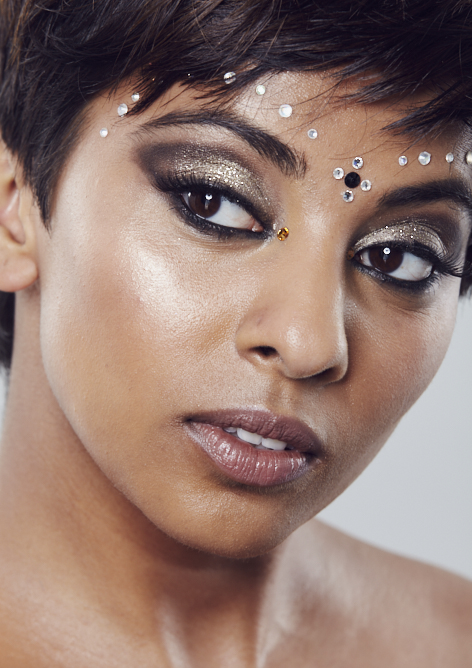 Then lastly, Dani asked if I would do another model, the lovely Samara, who was there to model hair for one of the hair student's final looks. I discussed it with Hannah, the hair stylist and as she was going for this lovely sweeping updo, we decided to keep the makeup fresh, a little bridal, but also a look that would work for red carpet and proms. It was lovely to focus on her skin and make her look glowy and fresh. Both were stunning girls and I'm so happy to have this on my portfolio!
Amy's Bridal Makeup in Suffolk
Last year in 2016 I met the lovely Amy at another wedding at Gosfield, where she was a bridesmaid. I was over the moon to have her ask me there and then if I would do her wedding makeup and a few days later it was all booked. So I feel as though I've really gotten to know this lovely girl and her family. We met again for trials earlier this year and below is the look we came up with. We kept to golds and neutral tones using Charlotte Tillbury and some amzing Ardell lashes. Amy then went over to Smeetham Hall Barn to have her reception. I loved her makeup look, it brought out her amazing green eyes. Photos are my own! xx
Amy's Wedding Makeup in Great Dunmow
I have been super busy and also super slow at updating this site but I must assure you, I've been on the go. Since April its been the height of wedding season for me, and also I fitted in two shoots in there as well. Lovely Amy got married right at the end of April and she got ready at the beautiful Star Inn Great Dunmow. Amy is very much a natural girl and I've had the pleasure of receiving these beautiful photos from John at Pure Image Photography. I've worked with John on a few occasions now, he is a lovely, friendly guy and I was most impressed with his hip holster for his different camera! ha ha. It was a dark room to get ready, but I squeezed myself into the smallest corner by the window for light. Amy wanted natural, radiant and fresh and this is truly what we got, she looked gorgeous! Her hair was done by Michelle Walker, who I've also worked with a couple of times now.
Beautiful Gosfield Wedding 2017
I had the pleasure of visitng one of my all time favourite venues last week, to get Rea ready for her wedding. This was a great, family occasion as Rea is in the Royal Navy and spends most of her time away, so it was lovely to see all her family together. Rea didnt have a trial beforehand so we had to speak via phone and email about what she wanted, and how she wanted to look on her wedding day. She wanted to stay as natural as possible with some soft defintion around her eyes. I loved her look!