Stunning Autumnal Photo shoot in an Essex Forest.
I'm so very happy to finally be able to share some beautiful images from the Autunm Photoshoot I collaborated on with Kathryn Hopkins Photography, in November last year. You might remember I recently did a 'How to acheive this look' write up only a few weeks ago. Well here are the finished results, featured today on Rock my Wedding, so to see the full feature just click on the link!
Teen Beauty Essex and Suffolk Photoshoot
I had a fab time last week having a play with my new camera, photographing two amazing, goregeous teenagers! It was also an oppotunity to get a bit creative with my new set of eye glitters from an amazing company called Glitter Eyes. The range of pressed and chunky glitters they do is vast and choosing 4 to get me started was literally like being a kid in a sweet shop. I have showcased Mollie's photos first. Mollie is a true English Rose and has a look that reminded me of Anne Hathaway. She photographed beautifully. I also never fail to be amazed at the covering power of Airbase. There is not a blemish to be seen on Mollie's skin!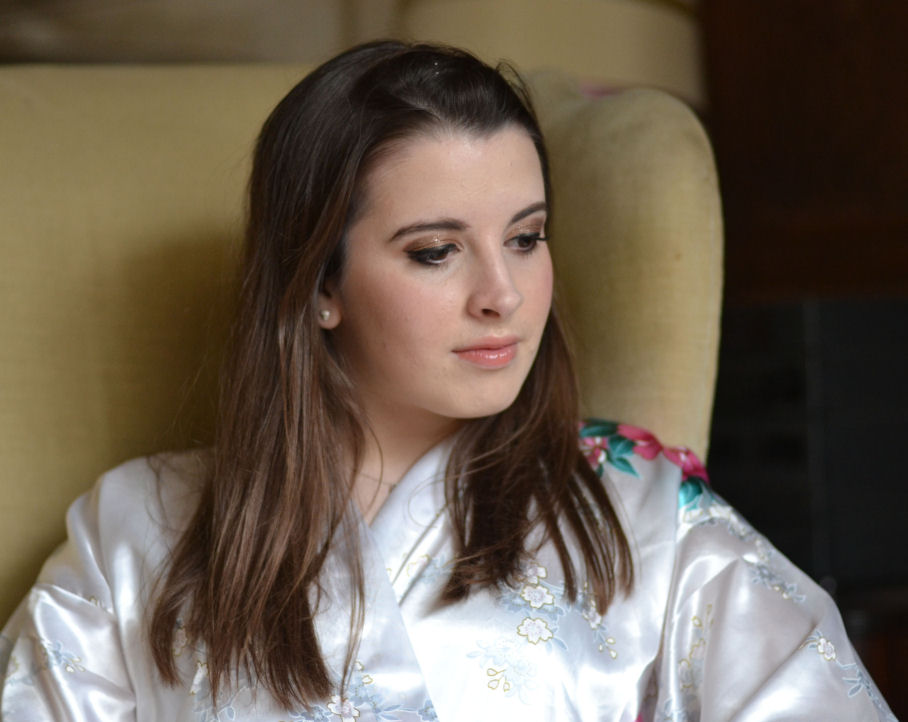 Autumn Bridal Inspiration Tutorial
Hello! I haven't written in awhile and I thought I would come back with a 'how to' on the look I created for a very pretty shoot that took place at the end of last year. The weather was not dissimilar to what we have now, wet, grey and very cold, but from the photos by Kathryn Hopkins, you'd never, ever dream we were shooting in those conditions. We had the most lovely and pretty model, Laura from the fashion blog Tiny Twisst. Please do check her amazing blog, I've popped the link below. The hair style was created by Charlene at Aimez-Vous and Rebecca Avery did a beautiful job, with a stunning bouquet and hair piece. We have been very fortunate to get this shoot featured on Rock my Wedding, so I should hopefully be able to post the link soon!
The brief for this shoot was very simple makeup, dewy skin with a lovely pop of colour on the cheek and lip. Fortunately I had a fabric swatch of the dress for months beforehand so I could really play around with colour and in the end I chose a vibrant, sheer lip colour from Mac, called 'cockney'. It is a poppy red, lovely for the time of year. It nearly didn't end up this colour though, but arrived in the post the morning of the shoot while we were getting ready, it was a sign it was going to be good!
I actually began with the eyes first. I started off sweeping Mac's paint pot in Groundwork all over the eye and filled in the inner corner with a lovely amber brown colour from the Mac 'Amber 9' palette. This is one of the best palettes you can have for bridal work as the combination they have in the palette are so soft, neutral and you also have some pretty golds as well in there. I used Charlotte Tillbury's Feline Flick eye liner to create a thin base for the Ardell lashes to sit on, I didn't want to create an extended flick for this look, but the black still makes Laura's blue eyes sparkle. I used a soft brown from the palette to take just under the eye into the lower lash line.
Laura has a great natural shape to her brows, so it was very easy just to fill in using my Japonesque Brow kit. I love this and can use it for so many eyebrow shades! I then began on her skin, which was prepped with Charlotte Tillbury's Wonder Glow and then I used Mac Face and Body Foundation. This is so blendable and sets really quickly, which was important as we were going out in the rain at some point.
Laura checking out her lashes in the picture above! So to give a very soft contour, I used the contouring palette from smashbox, just on the hollows of the cheeks as Laura is very fair skinned and doesn't really need to be bronzed up, it was a fresh look we were striving for. On the apples of the cheeks I used Makeup Forever's cream blush in English Rose (very appropriate) and I put this on with the same brush as I used for the foundation, the reason being that I wanted the blush and foundation to look in synergy, not like the blush had been placed on top. It worked and she was glowing. I cant wait to show you the final photo.
Of course the last step was to apply the lipstick, which arrived in the nick of time. My tip for applying any red, is prep the lip first, even if just with vaseline. It helps the colour to glide over any dry patches. I always line afterwards to fill in any gaps and create more of a fuller look, if the model/client needs it.
These photos above show Charlene busy at work, creating a really pretty hairstyle and me just going back in for touch ups. Often when I finish the makeup, I normally have to add or play about a bit just to give it an extra pop of colour, or in the example above I wanted to smoke the eyes out a bit more. She really did look very pretty. Its a great makeup for weddings and works on those lovely fair skinned ladies, as it just looks fresh and vibrant. Below is the final look altogether with the hair done, dress on and on location. I cannot wait to share all these beautiful images really soon! xxx
Creatives
Laura from Tiny Twisst
Dress made by Kathryn Hopkins.
Happy New Year!
Wishing all my 2017 Brides and past couples a very happy new year! I've got an exciting year lined up ahead and hope you will join me in my journey. Some things to look forward to is my long awaited course with Fashion Makeup Artist Dani Guinsburg at the Sessions School in London. I cannot wait to go and learn a few new tricks and techniques to bring to all my clients this year! I have also got a few inspiration shoots coming up, to bring fresh new ideas to my site. And also a little secret project of my own! Stay tuned! xxx
Winter Wedding Makeup in Essex!
I love these beautiful pictures that I have been sent by the very talented Gary Derbridge Photography. Charlotte got married in Maidens Barn, but got reday at her family home in Wickford. It was a super early start as we had a whopping 10 people to get made up and I was lucky to have my trusty assistant Emma with me on the morning. When I met Charlotte for her trial, it was clear that she is quite a natural girl, she didnt want lash application, and was worried about looking too overdone. I think alot of brides have this worry with makeup, and fear that their grooms won't recognise them. What I always say, is that when your husband to be sees you for the first time, he'll see a vision in a white flowing gown, a goddess walking up towards him, he'll see the whole package and will be so blown away that he won't focuss on one detail, such as eyeliner or what lipstick you've chosen to wear. But Charlotte was in wedding mode and I'm pleased to say, loved her makeup which was a flawless application by Airbase, and we kept to neutral golds and a pretty beige lip from Ilamasqua. Her hair was done by Tara Johnston and created her lovely falling mermaid curls. She was helped on the day by the brilliant Zoe Prior. I'm also excited as Charlotte's wedding will feature on 'Say Yes to the Dress' on TLC.