Two days, Three Brides! Bridal Makeup in Essex
I had a marathon weekend and the sun made a very welcome appearence. Firstly I went to Billericay with my lovely new assistant Lucy, who helped me make up Faye and her very friendly bridal party. They were all a pleasure and there was also the smallest flower girl I've met to date, which was two week old Hettie. Faye opted for a flawless Airbase finish, along with some fab Kiss Lashes, Nars Torrid Blush and Lips by Lily Lo Lo.
Then on Saturday it was another gorgeous day and I went over to Prested Hall in Feering to help get Zoe and Victoria ready for their same sex marriage. It was such a relaxed, chilled out morning, with both brides getting ready together and then getting dressed separatley, which I thought was very sweet. Bot Zoe and Victoria opted again for Airbase, as they wanted to prevent tear streaking, as emotions were running high. Zoe naturally has the most amazing lashes, so we went for a very 1950s eye makeup look to compliment her Tea length dress. Victoria is not used to wearing a lot of makeup, but still we used a pair of dark brown Amy Childs Lashes for an eye opening lift, but also a vibrant Charlotte Tillbury Lip Colour in Amazing Grace. The photographer was Natalie from NatlaieJ Weddings and I'm looking forward to seeing her professional shots!
Gorgeous Wedding Party Halstead Essex
I had the pleasure of making up these three lovely girls below on the 26th March, Easter Saturday. The weather was a bit gloomy but it didnt dampen the spirits of these three, very happy girlies who were getting ready in the bride's home in Halstead, which is quickly becoming one of my most favourite places to visit, as it sits nicely on top of the River Colne and is packed full of cute little shops, bars and resteraunts. Also the fab Nell' Amore Bridal Boutique is there at the top of the high street and is well worth a visit for any planning bride to be.
Sophie, the bride opted for an Airbase finish, and the Bridesmaids Jade and Kate followed suit. It suited their skin, as you can see, they all looked flawless and immaculate. All girls wanted very defined eyes, but Sophie opted for a slightly more dramatic result with some fab Red Cherry lashes as it was a late afternoon wedding, and she wanted an 'evening' bridal look. They traveled to Braintree for the ceremony and then over to Gosfield Golf Club for the reception.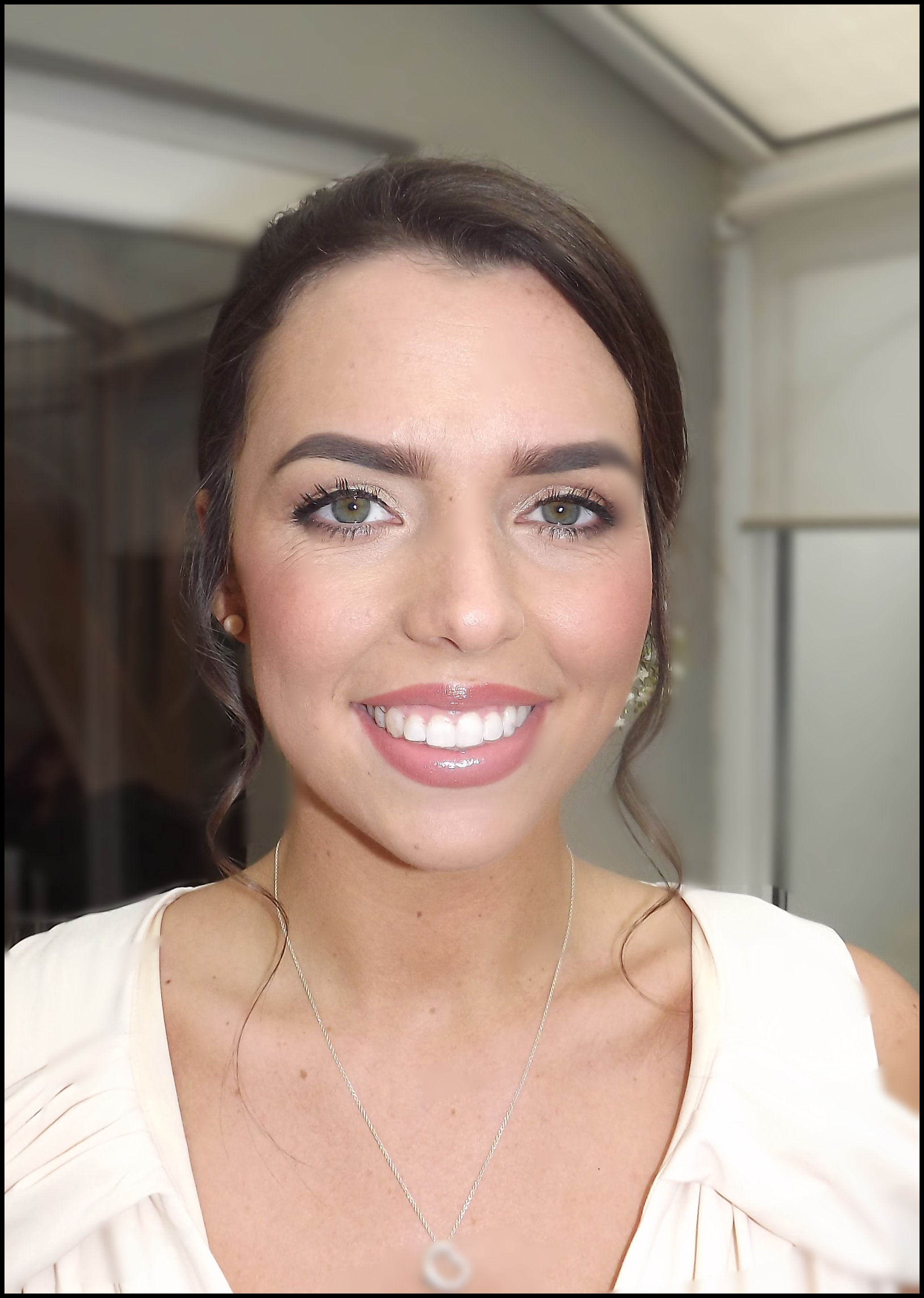 Woodland Wedding Bridal Makeup Inspiration
On a very rainy Tuesday this month I had the great pleasure to be involved in a Winter Woodland wedding inpsiration with the very lovely and gifted Kathryn Hopkins, who'll as you'll know I've worked with a few times now. Kathryn wanted very much to practice her Film Photography skills, an art form which is very rarely used in the wedding industry nowdays, and this actually required a very different way of applying makeup. We agreed on a very natural look, with no powder and a dewy complextion. This is because powder residue can often show up on film and leave the skin looking rather flat, which we didn't want. Out into the drizzle we went with a very pretty model called Jessica and with the lovely Rebecca Avery who designed the flower bouquet, the corasages and headpices. These are my digital shots but when I have the professionals I shall upload them onto the 'Photographic Gallery'.
The makeup was a mix of Bare Minerals Bare skin, Bobbi Brown and Mac. I used a very light pair of Eyelure lashes on top of Jessica's natural ones and I had already layered up her mascara with two, YSL and Urban Decay Perversion to give real natural lift and volume, as Jess's lashes were long but fine.
Bridal Makeup Trials 2016
As I write this I'm in the middle of many, many makeup trials for weddings this spring and summer 2016. Its all very exciting and I'm loving hearing all your fantastic details and all about your dresses and colour schemes. I've seen lots of vintage, lots of lace, blush pink, navy and gold. 2016 is going to be a good year for Bridal makeup as it seems that with the heavey use now of blogs like Rock my Wedding and also Pinterest, brides are getting more adventuous with their look. The eyes are a major focus and with instagram being big on promoting photographic looks, there are so many ideas out there for Brides to choose from. I cant wait to share some of the beautiful brides on my facebook page and also on here when I update! Keep watching and lots of love. xxx
Essex, Herts & Suffolk Winter Bridal Makeup
Hi everyone, seeing as we had about ten mintues of snow this morning I wanted to do a little blog on what to do if you have skin that literally hates the cold. Most skin types dislike cold weather, or extreme temperature changes. One big example of this, if is you happen to be working or living in London and have to get on and off the tube. I recently had a lovely bride who had that type of job, she was constantly on and off the tube, in and out of the cold and suffered with redness and fairly dry skin. I wasn't able to use my lovely Airbase on this lady as unfortunately it just didn't suit her very changable skin and we had to go back to the drawing board and look into what we could do to fix this problem. For skin that is battling the elements, as well as London smog and pollution and everyday stress use a city block. Clarins do the Multi Active Skin Cream which has been a fav of mine for years and years. It repels radicals and pollution but will also keep your skin under control if you are tube hopping. Clinque also do one similar. I also found a brilliant cream for Anti Redness called Eau Theramale Anti Rouges as recommended by Lisa Eldridge. This also acts as a barrier but calms skin that gets irritated and dry. I also used Clarins Instant Smooth. If you've never used this, this is a wonderful little potion that acts as a primer and a filler. Use it around the dry eye area and it fills in the cracks and very fine lines caused by dryness. Its brilliant and on this particular bride I used it around her nose as well. I used the Everlasting foundation by Clarins and also a brilliant little product called Amazing Concealer, it smooths out everything and I think you will see from the photo below, no redness is visable! It also adds light to her skin, she did not want to look powdery. On my research for this lady I also found The extra comfort Foundation by Clarins, which is a luxurious base for those who suffer with tightness from dehydration. For setting makeup on a dry skin, avoid powder altogether as this will only start to crack throughout the day. Instead use a setting spray like the one from Urban Decay.
When the skin becomes dry, other aspects acompany it, such as tightness, soreness, itchiness and redness. It can flare up and become over sensitive and this is when you know you need to do something about it. Think about the way you treat your skin in the morning. Are you splashing it with cold water or standing in a steaming shower? Again these extremes are never great for the skin. Liz earle's Cleanse and Polish is a lovely way to trea your skin in the morning, as it gently exfolilates. The key word is gentle, please don't scrub with Apricot cleansers, you'll strip it back to nothing.
I hope you agree that this bride looked radiant (without the red) for her wedding day and that it was worth investigating the possibilties we could try for her skin and to create the look she wanted.